Regular price
$155.00 USD
Regular price
Sale price
$155.00 USD
Unit price
per
Sale
Sold out
The Phoenix is a symbol of renewal, the sun, immortality and resurrection.
Some believe it represents Jesus Christ.
According to the legend, after 500 years the phoenix sets himself on fire and in the flames turns into ashes.  The ashes regenerate into a brand new egg, which will hatch into a new phoenix. To rise like a phoenix, I must die like a phoenix, re-born anew from the remnants of the old, missed yet forgotten as the ashes mold into new flames — giving the ultimate breath of life into this new essence, new being, new form, but I'm still me.
"My phoenix long ago secured-  His nest in sky-vault's cope; In the body's cage immured; He is weary of life's hope. Round and round this heap of ashes- Now flies the bird amain - But in that odorous niche of heaven.    
Nestles the bird again. Once flies he upward, he will perch.  On Tuba's golden bough: His home is on that fruited arch -  Which cools the blest below -If over this world of ours - His wings my phoenix spread, How gracious falls on land and sea - The soul-refreshing shade! Either world inhabits he,  Sees oft below him planets roll; His body is all of air compact,  Of God's love his soul." (Hafez).
Year: 1999
Original Dimensions:  32in x 20in
Accompanied by a FarshchianART Certificate of Authenticity
Please select size and substrate when ordering. Sample images are for illustration only. Your print will be produced to the dimensions and specifications you select upon ordering. All prints are produced using archival pigment ink and state-of-the-art printing processes by our trusted printing house specializing in museum-quality reproductions.
View full details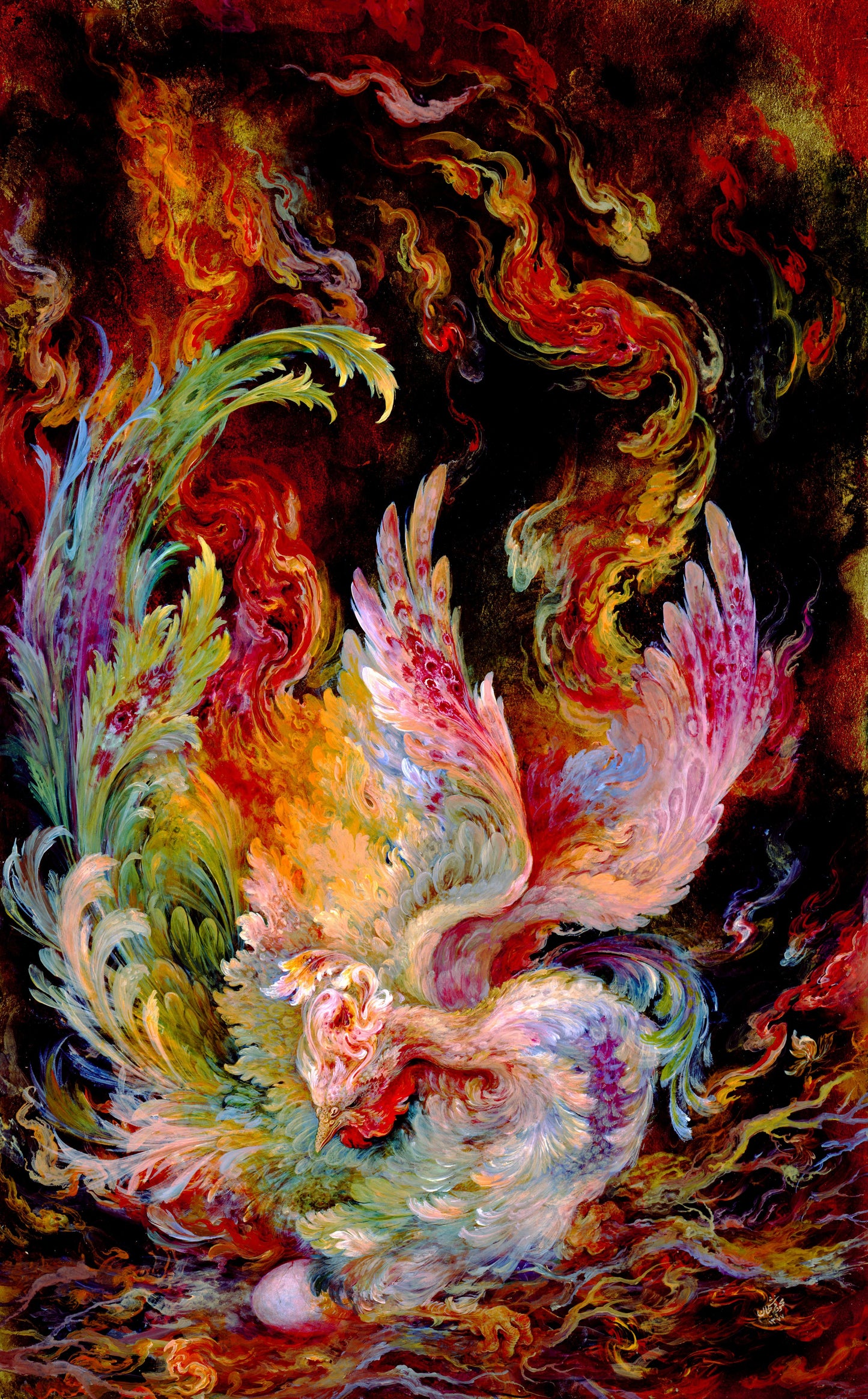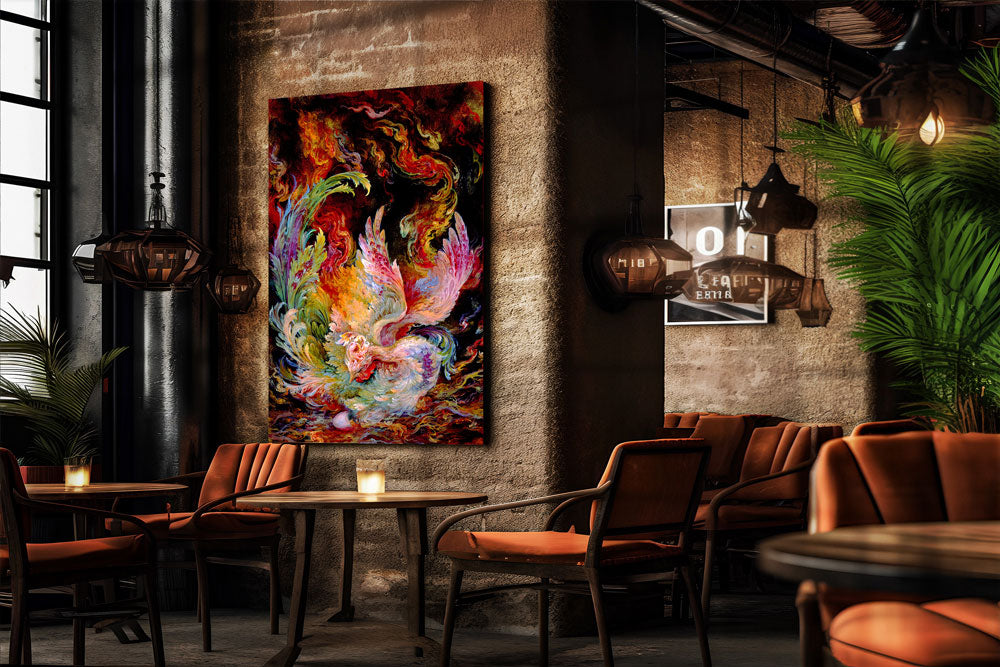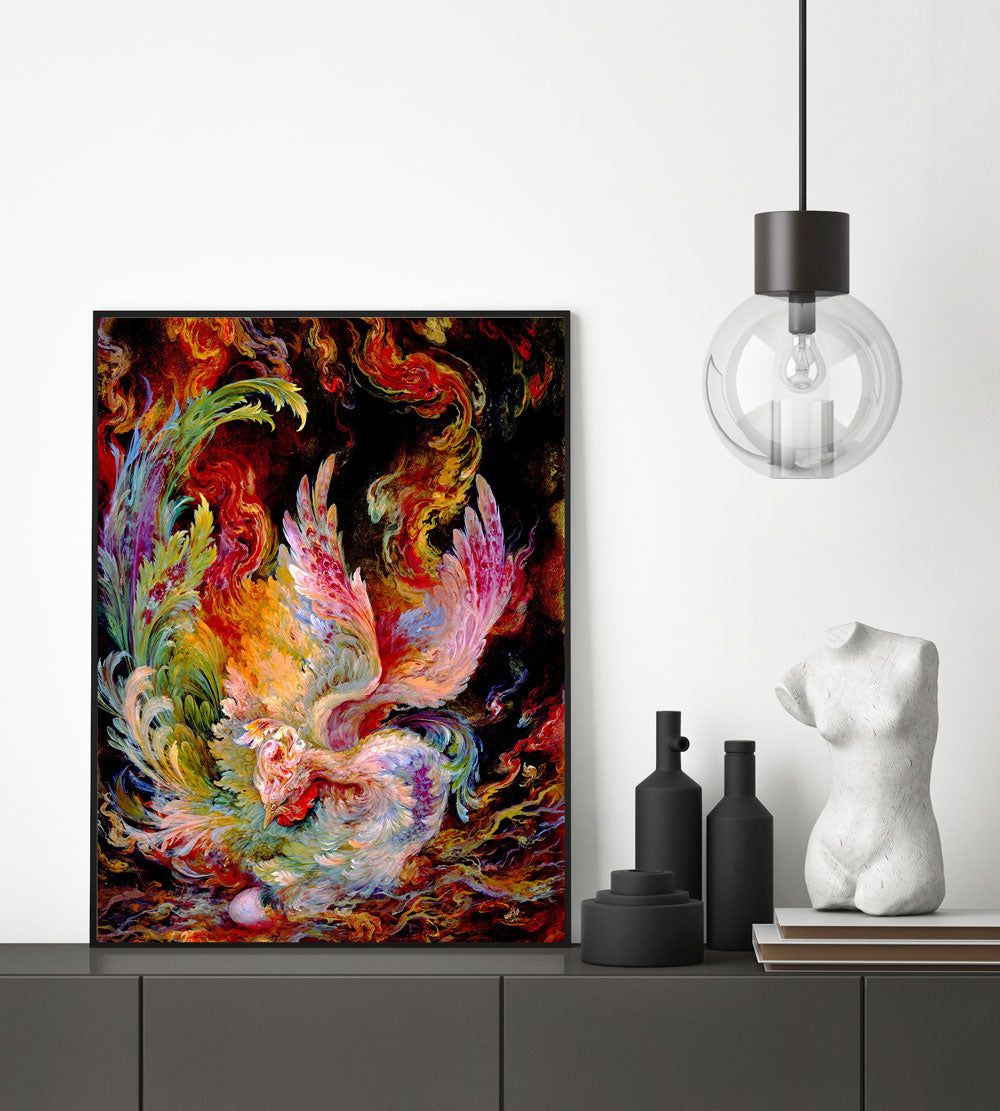 Details & Specifics
Print Quality

Each print is expertly produced using archival pigment inks, the finest quality materials, and state-of-the-art digital printing processes. The superb print quality is a direct result of our longstanding partnership with a printing house specializing in archival reproduction & museum-quality mediums.

Fine Art Prints are printed on Canson Infinity Aquarelle paper.
Gallery Metals come ready to hang with a 1.5 inch stand-out mount.
Canvas Gallery Wraps come ready to hang with a solid color 1.5 inch edge on all sides.
Framed Prints are professionally laid in a .75 inch flat black wooden frame and are ready to hang.
Frames & Substrates
Certificate of Authenticity

All prints and lithographs are accompanied by a letter of authenticity issued by FarshchianART.

Founded by the Farshchian family, FarshchianART is dedicated to collecting, exhibiting, preserving, and interpreting the art and archives of Mahmoud Farshchian. 
Delivery

As stewards of this artwork, we pay detailed attention to every step of its journey to you, including proper packaging for transport. Each order is padded and packaged carefully to ensure your masterpieces arrive safely, securely, and in perfect condition.

All US orders are shipped via UPS ground services. International shipping destinations and rates vary.
More works from the collection...
Regular price

From $155.00 USD

Regular price

Sale price

From $155.00 USD

Unit price

per

Regular price

From $155.00 USD

Regular price

Sale price

From $155.00 USD

Unit price

per

Regular price

From $155.00 USD

Regular price

Sale price

From $155.00 USD

Unit price

per