Regular price
$155.00 USD
Regular price
Sale price
$155.00 USD
Unit price
per
Sale
Sold out
Potiphar's wife: "Oh Joseph! Your eyes are so beautiful." Joseph: "I use them to look at my Lord," he retorts. Potiphar's wife: "Joseph, raise your sight and gaze at my face," she responds. Joseph: "I fear [if I do so] that I will be resurrected blind in the afterlife," he answered. She tries to press herself close to Yusuf, but he moves away. "I come close to you, yet you distance yourself from me?" she asks. "I desire, by that, the closeness of my Lord," he says.
"Joseph, I have prepared my bed for you so enter under its sheets with me," she says. Joseph replies, "Your sheets will not shield me from my Lord."
"Joseph, I have prepared the finest of silk covers, so I order you to fulfill my desires!" she exclaims. "If I do so," he says, "My portion of paradise will be lost."
And as he hurried to the door, she tore his shirt from the back. Because he rejected her, she told Potiphar that Joseph violated her.  The accusations were not believed because his shirt was torn from behind.
Year: 2001
Original Dimensions: 40in x 32in 
Accompanied by a FarshchianART Certificate of Authenticity
Please select size and substrate when ordering. Sample images are for illustration only. Your print will be produced to the dimensions and specifications you select upon ordering. All prints are produced using archival pigment ink and state-of-the-art printing processes by our trusted printing house specializing in museum-quality reproductions.
View full details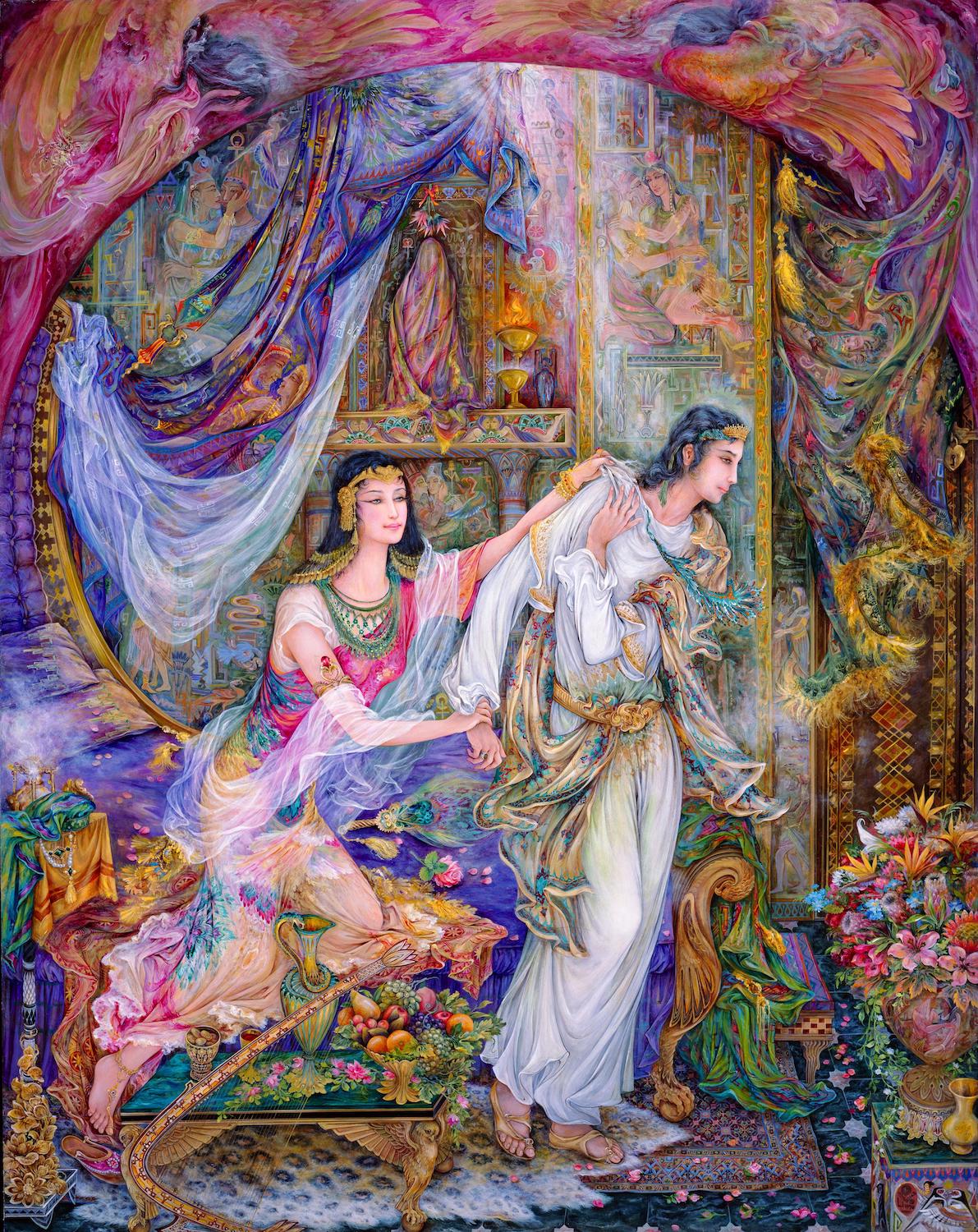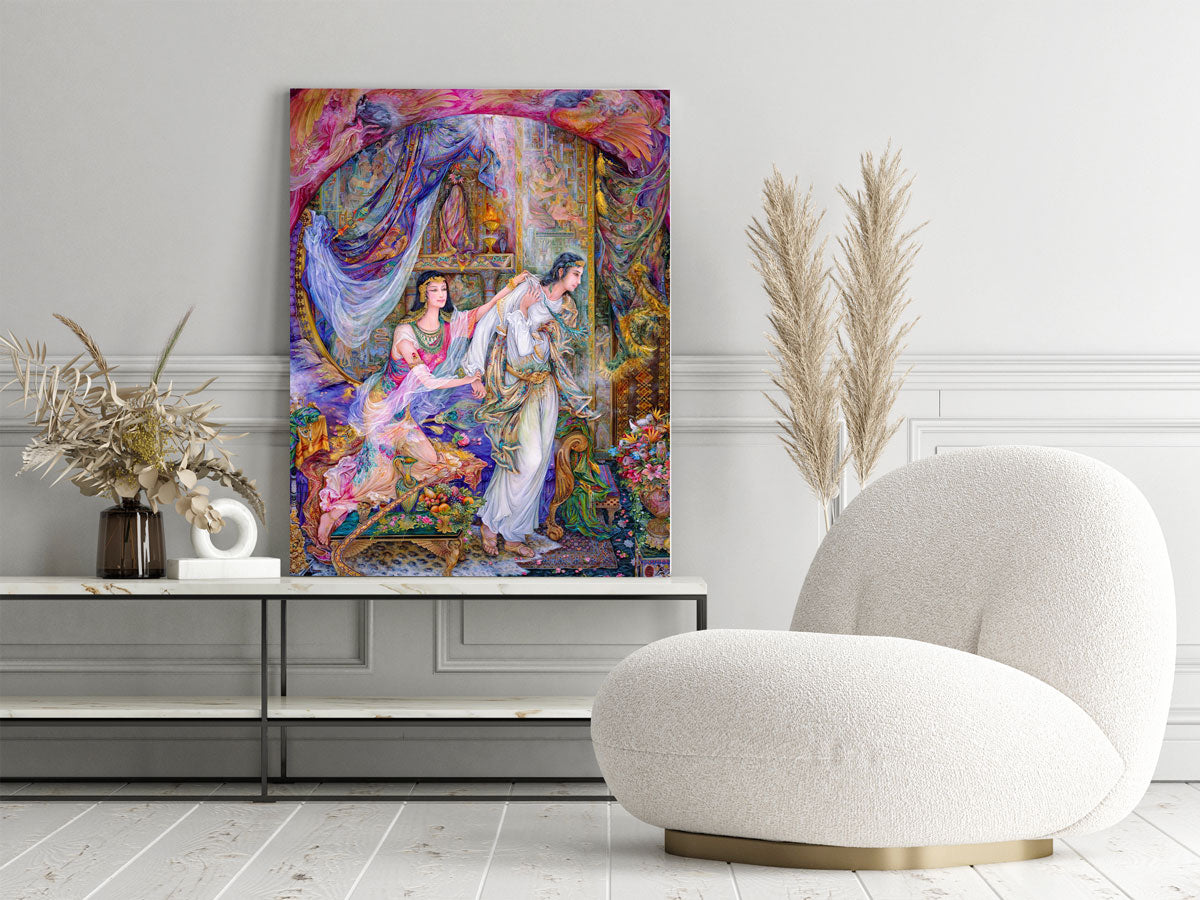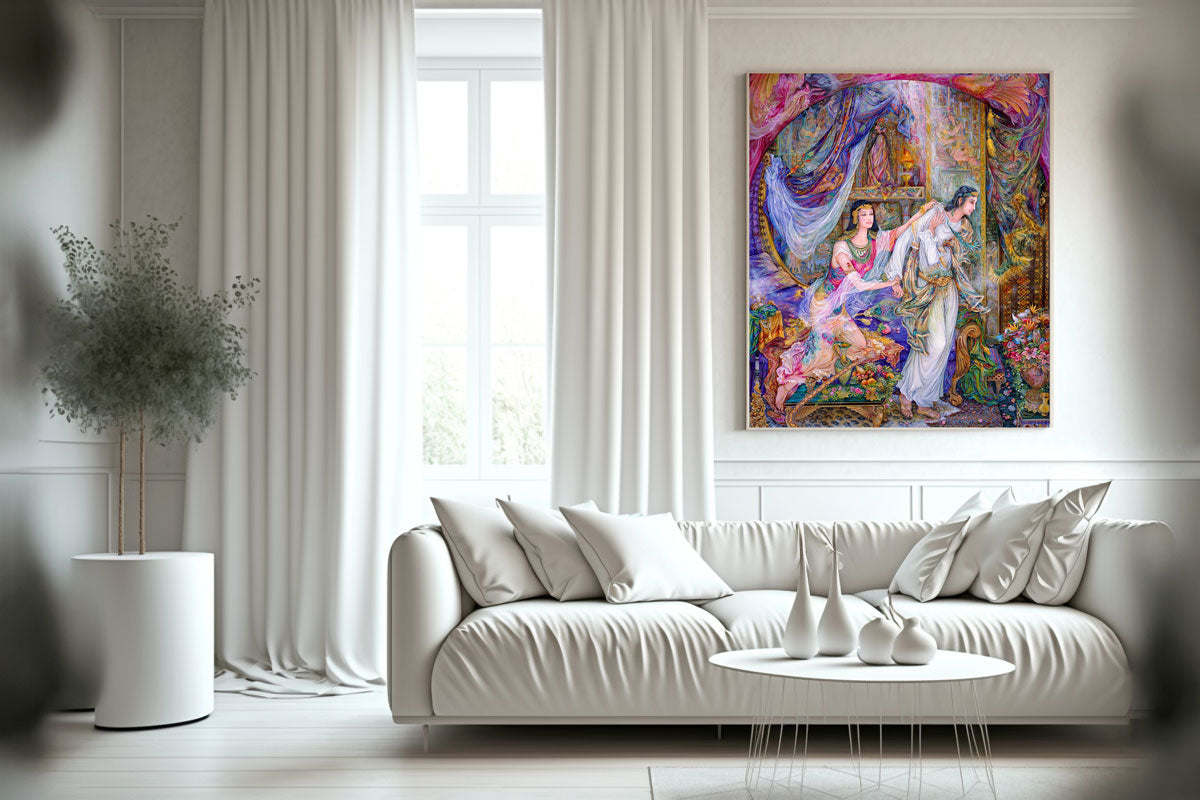 Details & Specifics
Print Quality

Each print is expertly produced using archival pigment inks, the finest quality materials, and state-of-the-art digital printing processes. The superb print quality is a direct result of our longstanding partnership with a printing house specializing in archival reproduction & museum-quality mediums.

Fine Art Prints are printed on Canson Infinity Aquarelle paper.
Gallery Metals come ready to hang with a 1.5 inch stand-out mount.
Canvas Gallery Wraps come ready to hang with a solid color 1.5 inch edge on all sides.
Framed Prints are professionally laid in a .75 inch flat black wooden frame and are ready to hang.
Frames & Substrates
Certificate of Authenticity

All prints and lithographs are accompanied by a letter of authenticity issued by FarshchianART.

Founded by the Farshchian family, FarshchianART is dedicated to collecting, exhibiting, preserving, and interpreting the art and archives of Mahmoud Farshchian. 
Delivery

As stewards of this artwork, we pay detailed attention to every step of its journey to you, including proper packaging for transport. Each order is padded and packaged carefully to ensure your masterpieces arrive safely, securely, and in perfect condition.

All US orders are shipped via UPS ground services. International shipping destinations and rates vary.
More works from the collection...
Regular price

From $155.00 USD

Regular price

Sale price

From $155.00 USD

Unit price

per

Regular price

From $155.00 USD

Regular price

Sale price

From $155.00 USD

Unit price

per

Regular price

From $155.00 USD

Regular price

Sale price

From $155.00 USD

Unit price

per